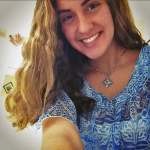 Aphrodite Megaris '15
"BHSEC raised my expectations."
Show More
Aphrodite Megaris '15 comes to BHSEC from the Gifted and Talented Program at P.S. 122. For someone who admits to "getting a lot of work in middle school," Aphrodite concedes that BHSEC is an even greater challenge. BHSEC is unlike anything Aphrodite ever experienced, "the teachers really treat you like adults, like equals."
She credits her professors with transforming her education and the way she thinks. "The fact that my professors analyze why things happen, the fact that classes are so discussion based, it just keeps me intrigued."BHSEC's academic environment opened up new doors for Aphrodite. "I used to feel like I needed to pick some sort of ordinary career, but I saw that I had a passion for helping people." Her devotion to BHSEC and the opportunities it afforded her is reflected in her involvement on campus. Aphrodite spends her time volunteering for a wide variety of school functions. "I feel like it's a give-back to the school," she said."When I talk about BHSEC, I have a smile on my face."
---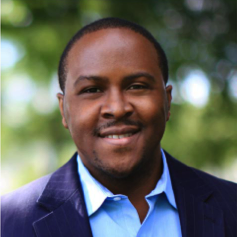 Declan McPherson '05
"From my first day at BHSEC, I was forced to achieve and pushed to do more than I thought I could."
Show More
Declan McPherson is a 2005 graduate of Bard High School Early College (BHSEC) Manhattan. Declan grew up in East Flatbush, New York, and attended middle school at Lenox Academy in Carnasie, New York. He was looking for a challenging high school experience and realized he would not find this at his local high school. BHSEC had just opened its doors and, after interviewing for a spot in the incoming class, he knew this was the school for him.
BHSEC had a profound impact on Declan's personal and professional trajectory. As he explained, "BHSEC affords children a great opportunity to expand their horizons. Beginning in the 9th grade, I grew academically and philosophically and BHSEC is solely to thank for my growth. As a young African American male, social statistics do not bode well for me. Had it been left to society's expectation of my demographic, I should be a member of the prison population. Thankfully, BHSEC has helped me to become a young man who earned his Masters in Political Science at the age of 22. My outlook on life completely changed because of the courses I took."
The faculty and students at BHSEC had a significant influence on Declan. "At BHSEC I was given the chance to share a classroom with professors and students I might not otherwise have met. The teachers were not only instructors, but they were truly invested in students' lives and our well being." More than anything, BHSEC emphasized the importance of perseverance and patience. As Declan explained, "BHSEC teaches children that truly anything is possible through hard work."
After graduating from BHSEC, Declan transferred all 60 of the Bard credits he earned at BHSEC to the New York Institute of Technology, where he graduated in two years with a bachelor's degree in English. In May of 2010, Declan earned a master's degree in Political Science from Brooklyn College. He is currently pursing a J.D. at Hofstra University. He hopes to become a law professor and legislative attorney after graduating. Declan credits BHSEC with his success: "I can honestly say that I would not be who I am today without having attended BHSEC. From my first day at BHSEC, I was forced to achieve and pushed to do more than I thought I could."
---
Glendean Hamilton '09
"BHSEC is intense with a purpose, challenging with a vision."
Show More
Glendean Hamilton '09 is a graduate of BHSEC Manhattan. She double majored in government and education at Smith College. For the next two years, Glendean will be teaching in Boston as part of Teach for America. Glendean came to BHSEC from the Richard R. Green Middle School in the Bronx.
She found BHSEC's environment to be transformative because the academic environment was one where intellectual freedom was valued. "Being able to ask questions of the texts, of the authors, and being able to question and challenge the professors, to know that your voice matters, that was something I grew into."
Learning was loved and unceasing at BHSEC. "My classmates were always so into everything, they just ate up Kafka and Locke and Rousseau. There was truly a sense that knowledge was cool at BHSEC; it was cool to be reading a book. That love of reading permeated regular discussion at BHSEC. While hanging out you were still learning and having a discussion about your seminar reading. That made it an experience like no other."
Glendean credits BHSEC with expanding her horizons in the realm of higher education. "As a first-generation college graduate, I wasn't exposed to a lot of colleges. I didn't understand the college application process and the financial aid process. BHSEC's College Transfer Office made this information accessible."
Offered a full tuition scholarship, Glendean enrolled at Smith College. She arrived to Smith with an impressive educational foundation. "I got a head start. My professors would ask, 'What high school did you go to?'"
"The whole intensive writing curriculum at BHSEC changed my life because I learned to write. Before BHSEC, I felt that I knew English; I thought I was proficient, but at BHSEC I learned how to write theses, defend claims and find textual evidence. It wasn't until I got to Smith that I realized, I'm a darn good writer because of BHSEC."
During her second year at Smith, Glendean had an awakening. "I realized my public school experience was the exception to the rule that public schools are failing students, especially people of color. It became my personal mission to write policy and teach so that people can have the education I was fortunate to receive." That year, she declared an education major. "I went to my professor and said, 'I want to teach.' I told him about my middle school experience, BHSEC, and how BHSEC impacted me."
Upon graduating from Smith, Glendean was accepted to Teach for America. "Teach for America is an organization I want to align with because of their personal determination to closing the achievement gap in this country." When asked if it's important that students everywhere have an opportunity to attend a BHSEC, Glendean responded: "important seems like such a weak word for how passionate I feel that students should have an opportunity like BHSEC." Glendean understood that BHSEC provided her with what is, in many ways, the most important aspect of a young adult's life: education. However, she strongly believes that an education, like that provided at BHSEC, shouldn't be a matter of luck and chance, it should be a fundamental right. "We should take a good education for granted. That's what keeps me up at night and wakes me up in the morning, to make sure that BHSEC is no longer the school at the top of the hill, that schools like this are in every community, in every building."
"One of the biggest strengths of the liberal arts education I received at BHSEC is that it has enabled me to be a thinker, to strategize and to plan."
---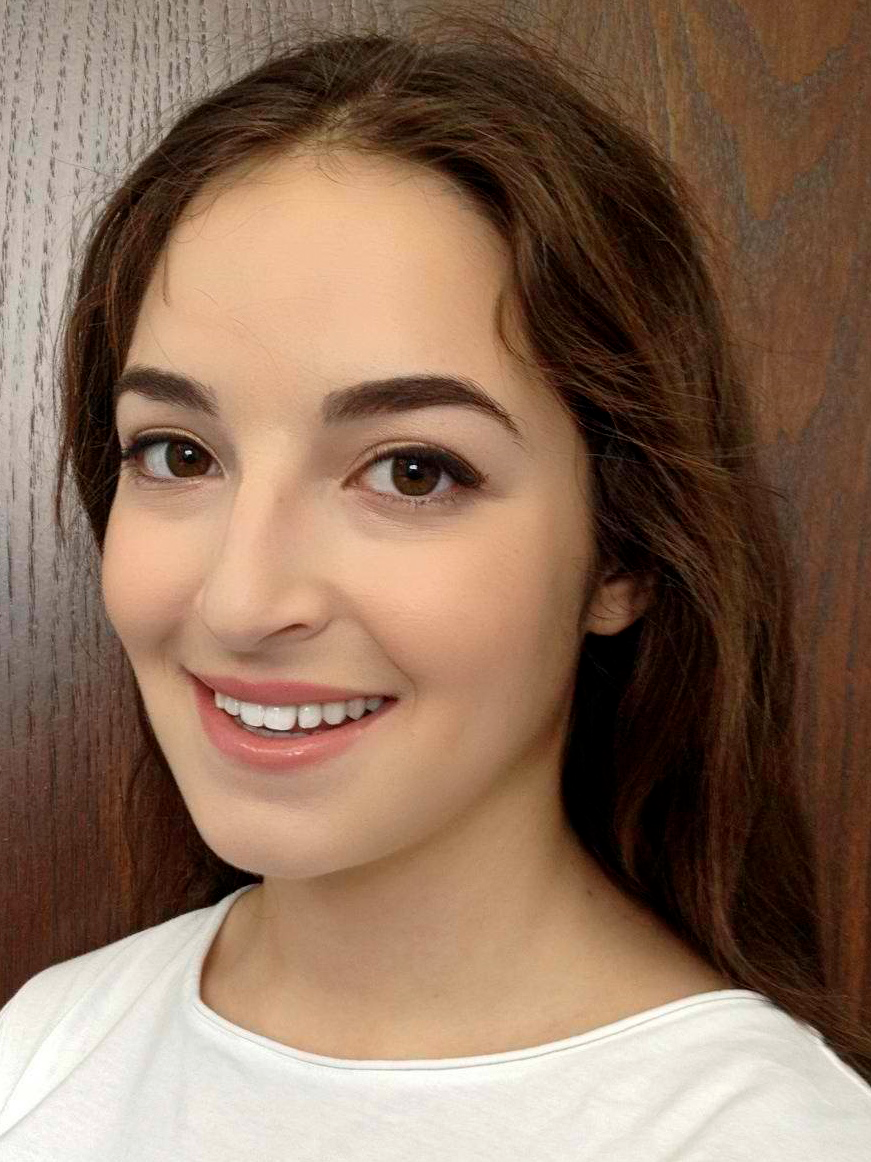 Jaclyn Olmos-Silverman '09
BHSEC "helped me become more well rounded and helped me understand more about our society."
Show More
Jaclyn Olmos-Silverman is a 2009 graduate of BHSEC Manhattan who went on to study Engineering and Economics at Harvey Mudd College. She currently lives in Chicago, where she works as a risk analyst for General Electric (GE) in the Commercial Leadership Program. Prior to her job at GE Capital, Jaclyn was a Research Intern at the U.S. Naval Research Lab, where she fabricated and tested soft magnetic materials. She also did research and development as an intern with the Clorox Company, working on consumer products packaging.
Jaclyn was attracted to BHSEC because the rigorous early college curriculum felt like a good fit for her interests saying, "I thought the early college concept was great, and I wanted to be challenged." She first heard of BHSEC through newspaper articles and began attending information sessions in the 7th grade.
The range of available courses enabled Jaclyn to take higher-level math and economics classes, such as calculus, chemistry, and microeconomics, which influenced her chosen fields of study at Harvey Mudd. Jaclyn's strong interest in the STEM fields led her to develop an actuarial science independent study with a BHSEC Professor. Reflecting on this experience, Jaclyn says, "I had encouraging math and science professors who helped guide me towards the sciences. They exposed me to fields I would otherwise not have had the opportunity to explore."
In addition to STEM classes, BHSEC's liberal arts curriculum was of great use in shaping her skills and worldview. "I really enjoyed the seminar sequence," Jaclyn recounts, "Reading and discussing the classics made me more aware, with a greater understanding of society, humanity and history."
BHSEC's intensive emphasis on writing made Jaclyn stand out in the four-year college she attended, and she notes that "BHSEC's writing-intensive curriculum was to my advantage. My first year at Harvey Mudd, I was in a writing intensive class, and the professor kept mistaking me for a senior because my writing was so well developed."
---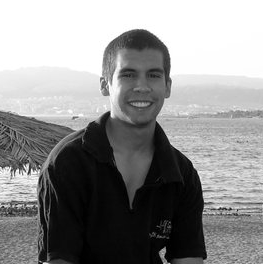 Johnny Garces '05
"If I'm at a position where I can give more to BHSEC, I would do everything for the school because BHSEC was that one pivot in my life that I needed."
Show More
Johnny Garces is a 2005 graduate of BHSEC Manhattan and a graduate of Middlebury College, where he majored in philosophy. After his undergraduate years, Garces entered the Peace Corps and served in Jordan.
When Garces arrived at BHSEC, he noticed great similarities and stark differences between BHSEC and his former middle school, William Cooper IS 73. The diversity at BHSEC mirrored that of his middle school: "There were kids from every walk of life and ethnicity in the huge building that was my middle school, and I got to experience that same diversity at BHSEC at a much smaller and intimate scale." As for the differences, Garces considers the schools light-years away in terms of academics. "Before BHSEC my learning was very passive—rote memorization. You read something, you highlight the text, and then you write about it. However, at BHSEC, you really engage with the text."
As a freshman at BHSEC, Garces recognized that BHSEC was different. "I kept hearing the year one students talk about Nietzsche, calculus . . . they talked about how much they had to work and how much they learned. I realized that I was in for a really interesting three years."
After graduating from Middlebury in 2009, Garces entered the Peace Corps. "My decision to join the Peace Corps was a leap of faith. I had no idea what I was getting myself into. Prior to joining, I had interned at a large profitable company, a safe zone. I could have used that opportunity to pursue a full-time job, but I decided to take a different path, a path that really spoke to me."
Garces devoted three years to engaging Jordanian youth. "My goal was to ensure employment opportunities for the youth." He had to find new, productive, and exciting ways to engage them. "I noticed that the students loved taking pictures and videos, so I wanted to transform their interests into something productive. I applied for funding to start a film academy."
Garces did not let naysayers detract him from his goal. "I figured, we'll make this work one way or another." Having limited experience with film, Garces independently researched and studied the subject and eventually developed a unique curriculum from scratch. With funding from USAID, the program became a sustainable success that is running to this day. The program was so successful that Sundance even visited the schools.
What is Garces doing now? He's working at a tech startup that is breaking down language barriers. With three languages other than English under his belt—Spanish, French, and Arabic—it seems like the right fit.
---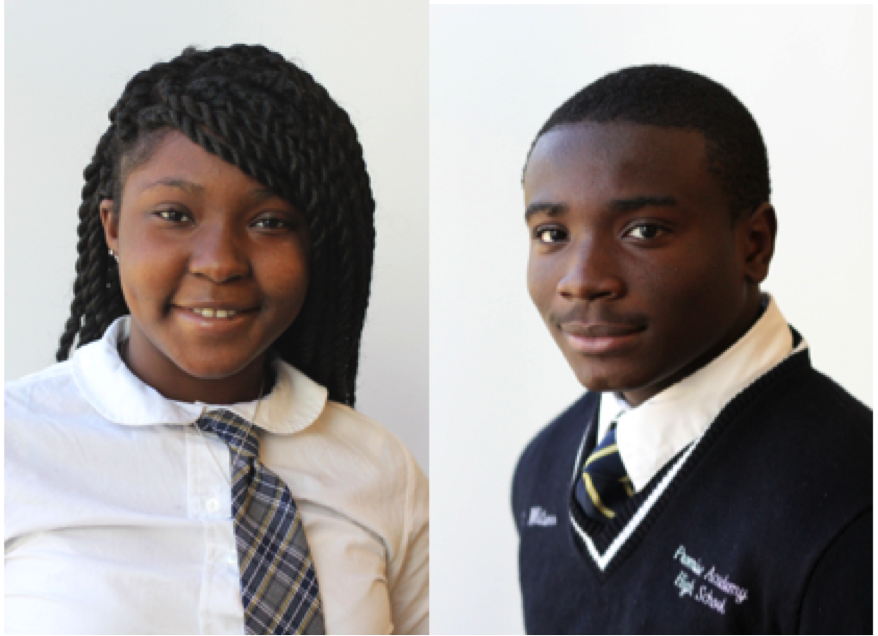 Kayla Thomas and Bryan Williams
Ambitious, eager, and resilient are some of the adjectives that describe Kayla Thomas and Bryan Williams, two students who attend the Harlem Children's Zone (HCZ) Promise Academy.
Show More
Kayla and Bryan, both from the Bronx, NY, are enrolled in the Bard Early College at HCZ Promise Academy. The early college allows students to take a liberal arts college course of study and earn tuition-free college credits from Bard College concurrently with their high school studies. Kayla, a junior in high school, and Bryan, a sophomore, have both been at HCZ Promise Academy for the majority of their academic careers. Now, with graduation on the horizon, they have decided to prepare themselves for success in college by enrolling in the early college program. They each attest to the ways in which the Bard Early College has changed their perspectives on their education, the world around them, and their future goals.
Before entering the Bard program, Kayla and Bryan, like many high school students, were able to successfully maneuver through class materials without putting in much effort. Being in the Bard program challenged that habit, causing them to increase their academic ambitions and take great pride in the work they produced. "Before, if I had homework I would say, 'I'm going to bust this out, I know I'm going to get 100'; with Bard it was like, 'Sixty-five, what's that?' So I took my time. And then I realized, this is actually work I can produce, I really have to work for my grade," Kayla explained. Bryan added, "In English Language Arts (ELA) class we never had intimate conversations like those in the Bard program, and when we did, we only touched the surface. The work for regular ELA is easy, I don't have to pay attention in class. At Bard I have to constantly be attentive."
Kayla and Bryan's ability to surmount academic obstacles and persevere made their successful completion of the pre-college courses all the more rewarding. Kayla described the academic struggle and long hours of work she had to put in, and the value she ultimately saw in the education, beyond the tuition-free college credits. "Before, I thought I'm just getting an associate's degree. Now it's like, wow, I can speak to adults, challenge them, and use these new words…I like that feeling. It feels more earned." Bryan had a similar experience: "At first I thought Bard was going to look good on my transcript. Then Bard broadened my horizons – certain texts I didn't expect to read, or conversations I didn't expect to have, or for my writing to improve. All these skills I've learned at Bard." Kayla and Bryan have both finished the pre-college program and will begin college courses this coming fall.
The Bard program challenged Kayla and Bryan academically, which impacted their performance in their traditional high school classes. As Kayla explained, "I became more focused and entitled to actually do my work, so my grades in other classes have improved." Instead of rushing to complete assignments, she prefers to get work done thoroughly, and she takes pride in the work she hands in. Teachers on multiple occasions have told her they have noticed improvement in her performance. For Bryan, there was "a domino effect. Everything else falls in place because I'm doing better in the Bard program. Before, my highest grade in math was a 65, and I wasn't interested in doing the work. Now my math score increased . . . because I was more focused in the Bard class."
Thriving in the Bard program, as Kayla and Bryan are, would be difficult without the support of certain faculty. Both students highlighted that having extended access to Dr. McMorris, the program's academic Director, helped ensure their success. "When I was slacking, Dr. McMorris told us, if you want to be a Year 1 [college] student, you have to pass, and slacking is not an option. . . . During lunch, after dinner, you're able to contact Dr. McMorris anytime. We are able to text or email her."
Bard has made a huge impact on Kayla's and Bryan's perspectives and goals. Kayla expressed that Bard has challenged her in numerous ways, allowing her to grow and revealing room for further development. "I feel like I'm not at the top yet, but I'm happy. I'm there, but I'm not there, I've still got some time. I'm waiting for that." Bryan emphasized that Bard has truly been an eye-opener, "Before going into Bard I had the perception that everything was the same. When you get accepted into Bard you realize everything is not the same, you have to approach things with different perceptions and perspectives. I have an open mind, I'm able to do things better and view things differently."
After graduating from Promise Academy and the early college program, Kayla hopes to attend Syracuse University and is interested in therapy and law as potential career paths. Bryan's dream school is UCLA, and he is interested in majoring in neurology. He is also an avid football player, and is interested in a career in professional sports or medicine.
---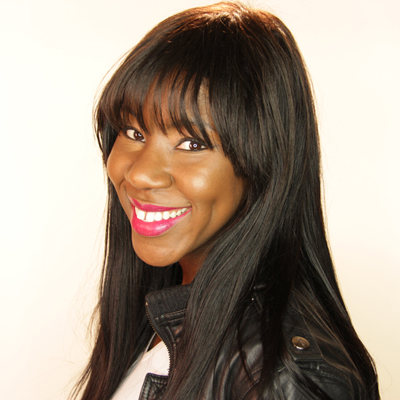 Lenina Mortimer '03
"I believe in BHSEC's core values. It provided me a platform to go to school, to learn."
Show More
Born in Brooklyn to parents of Haitian descent, Lenina Mortimer is a graduate of BHSEC Manhattan's inaugural class, the Class of 2003. In 2006, she graduated from Stony Brook University with a BS in biology and, in 2010, she graduated from Brooklyn College with a BA in journalism. Lenina works as a multimedia producer and intends to begin graduate studies next year.
Lenina transferred to BHSEC after her sophomore year at Midwood High School in Brooklyn. "I loved it at Midwood. I was on the track team, I was doing well—things were really good." But, she mentions, "for all intents and purposes, I had already finished high school at Midwood. I was taking accelerated classes. There was nothing else for me to do. BHSEC came at an opportune moment, it filled in the gap about what to do next."
When she arrived at BHSEC, Lenina was immersed in the college curriculum right away. The new environment and the new academic standards changed her outlook on learning. "The experience as a whole was so impactful. People cared about what I had to say." One memory especially stands out for being outside of the norm: early during her first semester at BHSEC, Lenina's seminar professor had lunch with the class. "It really struck me; I never had lunch with a professor. Seeing professors interact with students, that was different. It broke every norm."
Lenina's peers shared her thirst for knowledge. "We were all very inquisitive and we came from very different backgrounds. What linked us was our interest in things and learning."
After graduating from BHSEC, Lenina enrolled in Stony Brook University, where she transferred all 60 of her BHSEC credits. Lenina went from being part of a small cohort of students at BHSEC to being part of a large undergraduate class at the university. "The biggest difference between BHSEC and Stony Brook that I noticed was the class size. At BHSEC, I knew everyone and my professor knew me, but at Stony Brook, I didn't know my professors and my professors didn't know me."
Although Stony Brook was radically different than BHSEC, BHSEC adequately prepared Lenina for the upper level science, technology, engineering, and mathematics (STEM) classes necessary for her biology major at Stony Brook. "I took a lot of STEM courses at BHSEC, from Calc III to Chemistry. I was well prepared." Although she had her goals set on a career in medicine, a postundergraduate work experience changed her future plans. Her first job out of Stony Brook was an internship at a magazine that sparked her interest in studying journalism. After that internship, Lenina decided she wanted a change. She then enrolled in Brooklyn College and majored in journalism.
In her journalism career, Lenina has written articles and covered topics on a wide variety of subjects, ranging from arts and culture to politics. She has her mind set on being a leader in an international media organization.
Lenina is now a board member of the BHSEC Manhattan alumni association and works actively with a core group of graduates to organize events and keep alumni connected. "BHSEC was home—it's still home today. That's why I keep coming back."