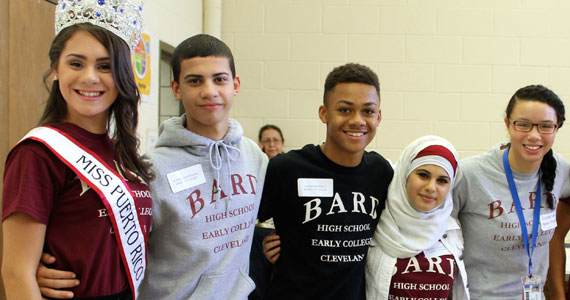 About BHSEC Cleveland
Bard High School Early College (BHSEC) Cleveland is a four-year public school that provides students with the unique opportunity to take a two-year, tuition-free college course of study in the liberal arts and sciences following the 9th and 10th grades. Through the partnership between Bard College and the Cleveland Metropolitan School District, we make it possible for students to earn both a high school diploma and up to 60 transferable college credits and an Associate in Arts degree from Bard College within four years.
Information Sessions
Bard High School Early College Cleveland will host Open Houses for prospective students and their families. The Information Sessions is a great way to learn more about BHSEC, meet faculty and staff and tour the facility on:
Wednesday, November 13, 2019 from 5:00 pm -7:00 pm
Wednesday, December 11, 2019 from 5:00 pm – 7:00 pm

Information sessions start at 5:00 pm and are held at the school (13501 Terminal Ave).
Read More "Information Sessions"
Announcements
Save the Dates

November 5, 2019 – Election Day -Teacher Professional Development Day (No Students)
November 11, 2019 – Veterans Day Observance – NO SCHOOL
November 20 -December 12, 2019 – NWEA test – Mathematics and Literature faculty (9th and 10th grade students)
November 27-29, 2019 – Thanksgiving Break – NO SCHOOL
December 2 – 20, 2019 – Ohio State Tests – semester- long Algebra I (9th grade students) and retakes
December 17-20, 2019 – Fall Semester Finals Week
Read More "Announcements"
At a Glance
Grades served:
BHSEC Cleveland serves students in grades 9-12.  
Application: 
Applications for rising 9th graders are available after September 1st of the student's 8th grade year.  Spaces will be filled for students in grades 10 and 11 if they become available.       
Click the link below to download and print the BHSEC Application
Read More "At a Glance"