Welcome New Students!
Congratulations on your acceptance to Bard High School Early College (BHSEC) Manhattan. We are delighted that you will be joining us in the fall.
We start the fall semester with a Writing and Thinking Workshop where you will work closely with a small group of students and one of our teachers. You will learn to read and listen more thoughtfully, to articulate ideas: to review your own work critically and, most basically, to recognize the link between thought and expression.
New BHSEC parents click here.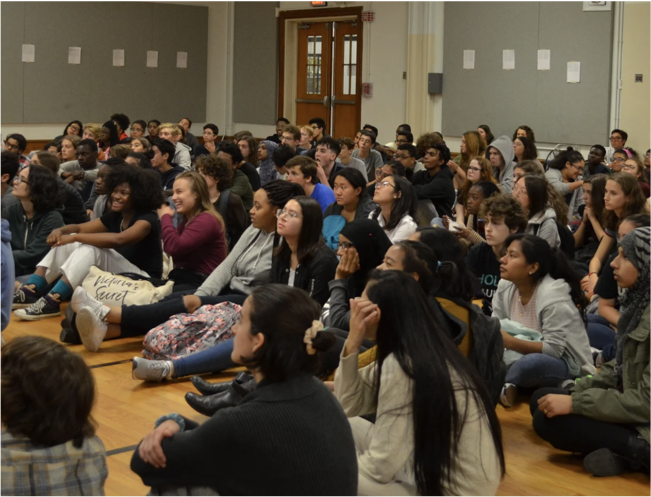 Acceptance Notification
Families and middle schools will begin receiving High School Admissions Matches to be determined by the NYC Department of Education. The Office of Student Enrollment will notify families by email that they can log into their child's MySchools account to view their child's high school admissions offer. Check your MySchools account or contact your guidance counselor for assistance. You may also visit the NYC Department of Education website for more information.
We will send out a welcome email to matched students with information about the online virtual event with current students, after the DoE sends out notifications. The online event will be in early June. We will try to use both the email that families used to sign up for our assessment and the email supplied by the Department of Education if it is different. Please check your email after the NYC Department of Education sends out match notifications.
First Day of School
September 7, 2023
Please check with the Department of Education's School Calendar for any changes.
Matriculation Documents
Federal Parent/Guardian Student Ethnic Identity Form
Child & Adolescent Health Examination Form
Cell Phone Policy
Frequently Asked Questions
You've been accepted and still have questions? Click here for Frequently Asked Questions by accepted students (updated April 2023)
Summer Reading for incoming 9th grade students
Please read letter from the faculty.
The Autobiography of Malcolm X: As told to Alex Haley (please get a hardcopy of the book)
Summer Bridge Program
August 29, 2023 or August 30, 2023 (register for one day)
The Summer Bridge program is an opportunity for incoming students to meet and get to know fellow students in their class, get advice from older, returning students, and to meet faculty and take sample classes. This program is organized as an informal introduction to our school, intended to familiarize new students with our school culture, our facilities and our neighborhood. Check back for REGISTRATION.
Athletics Program
We are excited to expand our sport offerings by creating a shared athletics program with NEST + M.
Visit www.psal.org (drop down menu Schools – Bard High School Early College & NEST+m) for statistics, schedules, and game locations. All student athletes can compete on teams listed on the Bard High School Early College page and the NEST+m page.
Please review the information below. If you have questions please contact Mark Cheng, Athletic Director Bard High School Early College, [email protected].
Listed below are the opportunities that will be available this fall:
Boys Fencing- Coach: TBD
Start Date: TBD
Boys Soccer – Coach: Evan Woodhouse ([email protected])
Start date: TBD

Girls Soccer – Coach: Naddem Qurbani ([email protected])
Start Date: TBD

Girls Volleyball – Coach: TBD
Start Date: TBD

Girls Fencing – Coach Barabash ([email protected])
Start Date: TBD
Girls Badminton – Coach Mclaughlin ([email protected])
Start Date: TBD
Co-Ed (Boys & Girls) Cross Country – Coach: Drew Miller ([email protected])
Start Date: TBD
Girls Tennis – Coach: Robert Romanzi ([email protected])
Start Date: TBD- Please email Coach Romanzi or [email protected]

In order to participate in these sports, or any PSAL activity, there has to be proper clearance. In order to be properly cleared, the following documents must be filled out PRIOR to participating in said athletic events (that includes practicing).
Physical Form (All students must submit a pre-participation physical exam form that has been signed and stamped by a medical provider (MD, DO, NP, PA). The form expires 12 months from its completion date.)
Parental Consent Form (This acknowledges that Parents have authorized students to participate in their designated sport. It must be filled out for EACH sport you play)
COVID Form (This is a consent to COVID-19 testing)
For Volleyball athletes, It is important to note this update from the PSAL….As a reminder, PSAL high-risk sports include football, volleyball, basketball, wrestling, lacrosse (boys), stunt, and rugby. Vaccination will also be required for participation in bowling, because while not a high-risk sport, it takes place in spaces that require vaccination. 
In addition, this is an informational form regarding Concussions. Please review this and be aware of Concussion symptoms. This will also be given to athletes during the year.