Information Sessions
For parents and students with an IEP or who receive special education services for 20% or more of the school day. Students with 504's or English Language Learners should attend the general open house.
These sessions will cover how we support students with learning support services and is a supplement to the general information session. The meeting will be virtual and it is intended for parents and students. Registration will begin TBD. If you have questions about special education at BHSEC please email, [email protected].
Fall Event Dates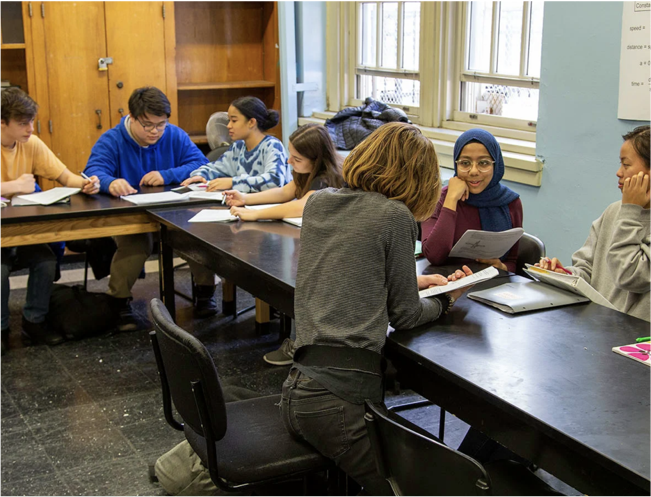 Assessments
Due to Covid-19 there are no in-person assessments. The application process and assessment is online for all applicants.
Students Eligible for Special Testing Accommodations
Students with disabilities who have Individualized Education Programs (IEPs) are eligible for supports and accommodations on tests. Students who feel that they need accommodations to take our untimed online assessment, should e-mail: [email protected] or [email protected]
About BHSEC Assessment
The BHSEC Assessment was created and developed by the BHSEC faculty and administration to assess applicants writing, thinking, and mathematical skills.
There are three parts to the assessment: two writing responses and one video.
The assessment is untimed.
There are no test preparation materials for this assessment.
Admission Seats for Students with Disabilities
As per DOE policy, students who are considered a student with a disability are ranked parallel to students in the general population. An applicant who receives special education instructional programming for more than 20% of their academic program as indicated on their current IEP, is considered a student with disability.
Related services, such as speech, occupational therapy (OT), and physical therapy (PT), are not considered special education instructional programming for the purposes of high school admissions.
Please note that students with 504 accommodation plans are not entitled to seats for students with disabilities if they do not have an IEP that states the student also receives instructional programming for more than 20% of their academic program.
For additional information about testing accommodations, visit the Department of Education's website.