The Office of Admissions at Bard High School Early College Washington, DC is committed to recruiting motivated young adults who demonstrate motivation, intellectual curiosity, and excitement about an academic challenge, and who are eager to dive into college coursework at an earlier age.
We are still accepting students for the 20-21 SY. If interested please look below for instructions!
Bard DC Post Lottery Application Instructions
In order to be considered for admission into Bard DC for the 20-21 school year students must complete ALL THREE of the following:
MySchoolDC: Please click here to complete a Post Lottery Application to be considered for admission to Bard DC. You must also complete our interview and essay to have a completed application for Bard DC.
Essays: To complete the essay portion please email amanda.washington@k12.dc.gov for the link to the online essays. You will have 24 hours to complete and submit your essays once it is sent to be considered for admission.
Interview: To complete the interview process please click here,to schedule your interview.
Admission Process & Criteria
The Bard High School Early College admissions process includes participation in an open house or admission session, an individual interview with a Bard staff member, our writing assessment, and a math and english teacher recommendation. 
Bard DC does not review middle school records or standardized tests as part of admissions for the 9th grade. However, for transfer 11th grade students we do review 9th and first semester 10th grade report cards at your current school.  In addition to our internal admissions process students are also required to complete the MySchoolDC for SY 20-21 (when it opens in December) as well. Current 8th and 10th grade students are eligible to apply. To mitigate the spread of COVID-19 all Open Houses will be held virtually. The link for open house will be distributed to all parties that RSVP (the link can be found below).
CLICK HERE TO RSVP FOR OPEN HOUSE
FALL OPEN HOUSE DATES 
Thursday,October 15th @5PM
Tuesday,November 10th @5PM
Monday,November 23rd @5PM
Thursday,December 10th @5PM
Thursday,December 17th @5PM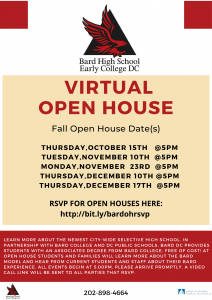 For Counselors
If you are interested in Bard DC's Admissions team coming to your school to speak to prospective scholars. Please contact Admissions Coordinator, Amanda Washington (amanda.washington@k12.dc.gov)