Welcome New Students!
Congratulations on your acceptance to Bard High School Early College (BHSEC). We are delighted that you will be joining us in the fall.
We start the fall semester with a Writing and Thinking Workshop where you will work closely with a small group of students and one of our teachers. You will learn to read and listen more thoughtfully, to articulate ideas, to review your own work critically and, most basically, to recognize the link between thought and expression.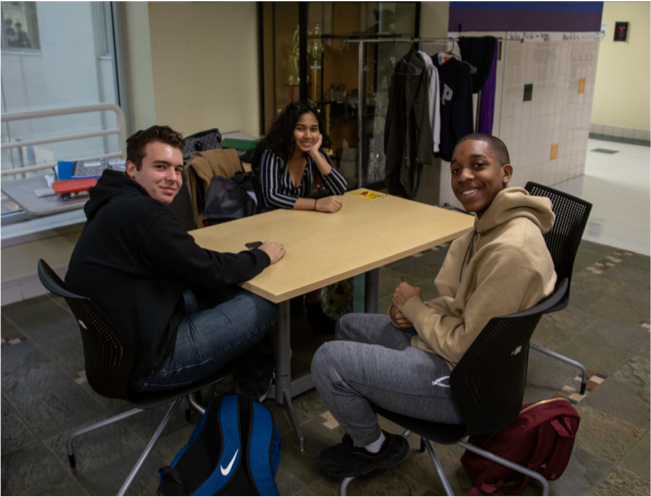 Acceptance Notification
Students and families will receive High School Admissions results in June 2022. Please contact your guidance counselor for specific questions.
Tours
June 16- June 24th, 2022
Congratulations on your acceptance to Bard High School Early College Queens, BHSECQ! Your application to BHSECQ and match to our school show that you are serious about learning and seek academic challenge. In order to experience the intellectually engaging community that we hope will be your home for the next four years, we'd like to invite you to visit. Please email Olga Ramos ([email protected]) to set up a tour after school with our student ambassadors!
New Student Orientation
June 21st, 2022 at 6 pm
This event will be held remotely on ZOOM. Please check your email for details.
Music Questionnaire
Hello and greetings from the Music Department at BHSEC. Congratulations on your acceptance to our school! In an effort to learn more about your past musical experiences and help you transition into our school's music program, we would like ALL incoming 9th-grade students to fill out the following questionnaire. BHSEC Queens has a strong music program to offer students and all are welcome! Please click here to access the questionnaire.
Summer Bridge
Wednesday, June 29th and Thursday, June 30th, 2022 from 9 am – 3:30 pm
Summer Bridge will be held in person this year! Please check your email for details. The Summer Bridge program is an informal introduction to our school and is intended to familiarize accepted students with BHSECQ's academic culture. It is also an opportunity for incoming students to get to know their fellow classmates, meet our faculty, and attend classes in the arts, Spanish, Chinese, and Latin. By sampling our Foreign Languages and Electives, students will be able to fill out the 9th Grade Elective and Language Preference Form. Please email Olga Ramos ([email protected]) if you have not received our Summer Bridge invitation.
Sports Interest Form
All new students should complete our Sports Interest Form. Please see this website for the sports that we offer.  High school is a perfect time for you to join a sport!
Bard DNA Summer Program
The Bard DNA Summer Program is a summer enrichment program which DNA fellows are expected to attend the July before their freshman year. During this three-week long program, students will take engaging and fun academic courses, participate in community bonding activities each day and attend Peer Mentor-led advisory sessions. The deadline to apply is Tuesday, June 28th, 2022. For more information visit https://www.barddna.org/summer-program.