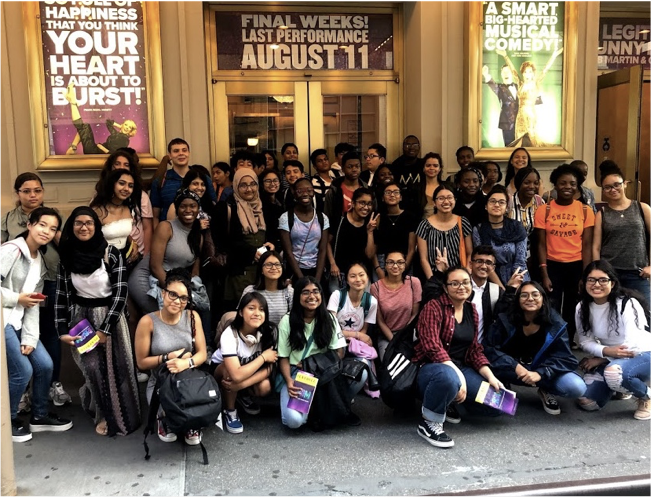 Bard Diverse Network of Action (DNA) was founded in 2018 at Bard High School Early College Queens. Bard DNA comprises the Bard DNA student organization and Bard DNA Fellows Program.
Bard DNA Strives to:
Provide a space for students of all identities to create change and take action on community issues.
Develop an inclusive, welcoming, and respectful school environment, in and outside of the classroom, for all members of the community.
Plan meaningful events, programs and initiatives that build community and increase school spirit.
Create opportunities for increased and intentional conversations on topics of power, privilege, and oppression.
When confronted with members of the community who do not share our same values, allow all opinions to be heard and valued, rather than excluded or dismissed, while still encouraging education and growth.
The Bard DNA student organization is composed of student leaders and social justice advocates who are dedicated to educating their community and themselves through events and programming. Bard DNA encourages participation from all students, regardless of race, ethnicity, sexual orientation, gender identity, ability, religion, economic status, immigration status, or any other identity. Bard DNA seeks to create an inclusive and safe school environment. Bard DNA has hosted the following signature events and initiatives: Bard Bags of Love, Winter Fest, Winter Clothing Drive, BHSECQ United, the Annual Cultural Buffet, and so much more!
The purpose of the Bard DNA Fellows Program is to provide academic support, mentorship, professional and leadership development, and a sense of community to students from historically underrepresented and/or economically disadvantaged backgrounds, during their four years at BHSEC Queens. Bard DNA Fellows participate in the DNA 9th grade summer program; Year 1 summer college course; leadership & skill-development workshops throughout the school year; and mentoring opportunities through the Bard DNA Peer Mentoring Program.
52 incoming 9th grade students took part in the Bard DNA 2020 Summer Program, which took place from July 13th to July 31st, virtually. Students enrolled in the following courses: "Coding with Consciousness: Computer and Data Science in Context" with Marlon Esguerra; "Re-Imagining América: The Latinx Condition" with Graciela Báez; and "Education as a Practice of Freedom" with Sara Aboobakar. The program also offered structured time for town halls and community bonding.
For more information, find contact information below or visit https://www.barddna.org/. You can also follow Bard DNA on Instagram @bard.dna. 
Contact
Karimah Shabazz
Director of Bard DNA
[email protected]
Garyne Berkoh
Associate Director of Bard DNA
[email protected]