Bard Early College (BEC) seeks to improve the transition from high school to college and increase access and success in higher education. We do this by offering high school-age students, particularly those from low-income and historically underrepresented communities, a tuition-free college program of study in the liberal arts and sciences, and by working to influence and lead a national movement for early college education focused on quality and equity.
As a campus of BEC, Bard High School Early College (BHSEC) Queens is a tuition-free satellite campus of Bard College, a nonprofit liberal arts college based in Annandale, NY, defined by academic quality, innovation, and its public service commitment. BHSEC Queens seeks to inspire curiosity, a love of learning, and civic engagement in its students; equip and empower students to access and complete higher education; and prepare its graduates for a range of educational, professional, and civic pathways. BHSEC Queens was established in 2008 as Bard's second early college and is operated through a partnership between Bard College and the New York City Department of Education.
This alternative to the traditional high school is founded on the belief that many young people are ready and eager to do serious college work at an earlier age. Based on the premise that these young adults' ambition to learn should be taken seriously, BHSEC's four-year academic program enables students to earn a high school diploma and a tuition-free Bard College associate in arts degree and 60 transferable college credit, alongside a high school diploma, at no cost to students or their families. True to Bard's motto, A Place to Think, BHSEC Queen's academic program emphasizes thinking through writing, discussion, and inquiry.
For more information about Bard Early College, click here.
Read more about our Commitment to Diversity Equity and Inclusion.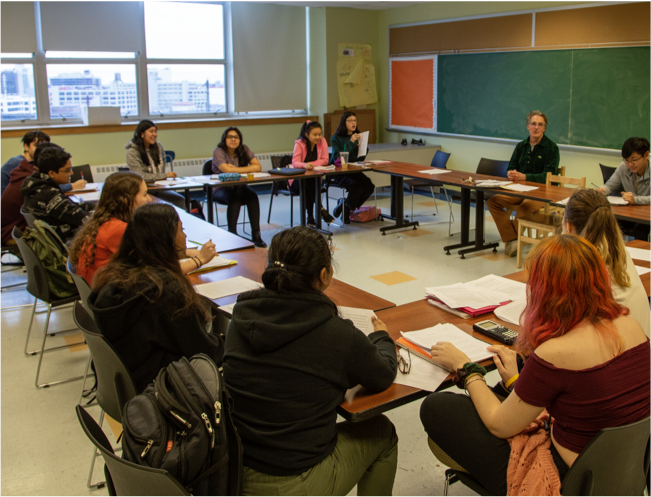 Core Components of Our Model
Free college program up to an associate's degree and 60+ credits that transfer to bachelor's degree programs across the country
College instructors, typically with a terminal degree in the content area and trained in early college pedagogy and Bard Writing and Thinking practices, teaching all grade levels (high school and college courses)
A robust and engaging liberal arts and sciences curriculum developed by Bard;
Small, writing- and discussion-based seminar classes
Strong academic and socio-emotional student supports
Qualitative admissions process that selects students based on their motivation to participate and intellectual curiosity through an interview and faculty-designed assessment
Student empowerment in the classroom and school community
Diversity in the student body, reflecting the local region
Partnership with public schools and school systems that make the programs possible.
Our Mission
Bard High School Early College Queens (BHSECQ) participates in a wider, national movement to elevate educational quality and access. We offer high school-age students who have a strong incentive to learn, a tuition-free liberal arts college education where they can earn college credits while enrolled in public high school, including the possibility of earning an Associate Degree.
An equitable education. At BHSECQ we are committed to providing culturally sustaining, challenging, and thought-provoking high school and college instruction for all students with equitable access for groups historically underrepresented in higher education, including students of color, immigrant students, low-income students, first-generation students, undocumented students, and students with disabilities.
Lifelong learning. At BHSECQ, students are instructed by active scholars and engaged teachers who provide a critical framework for exploration in the areas of world languages, the humanities, the arts and STEM. As students develop and refine the tools specific to these areas, they build their capacity to be independent, lifelong learners inside and outside the classroom.
Social responsibility and civic engagement. At BHSECQ, students participate in curricula and extra-curricular activities that examine the dynamics that make up our democracy, investigate societal problems, and honor critical thought and varying perspectives. As such, faculty members intentionally consider culturally relevant pedagogy and include a diverse range of contributors to course materials so that students gain a broader sense of which voices contribute to academic growth and graduate prepared to contribute to their communities with empathy, intellect, and wisdom.
A supportive learning environment. At BHSECQ, faculty and staff work closely with students to foster a collegial atmosphere where collaboration is valued over competition and community members are committed to seeing each other thrive. Students, staff, and faculty recognize the value that a diverse learning community with a broad range of political, philosophical, intellectual, and social perspectives brings to our school.