Undocumented Youth Welcome!
The Bard High School Early Colleges (BHSEC) are proud to offer a tuition-free Associate of Arts degree from Bard College regardless of a student's immigration status. We welcome undocumented students who may otherwise be deterred from pursuing higher education because of legal status or financial obstacles. As a New York City public school, we comply with the NYC Department of Education policies limiting immigration agent access to schools and student information.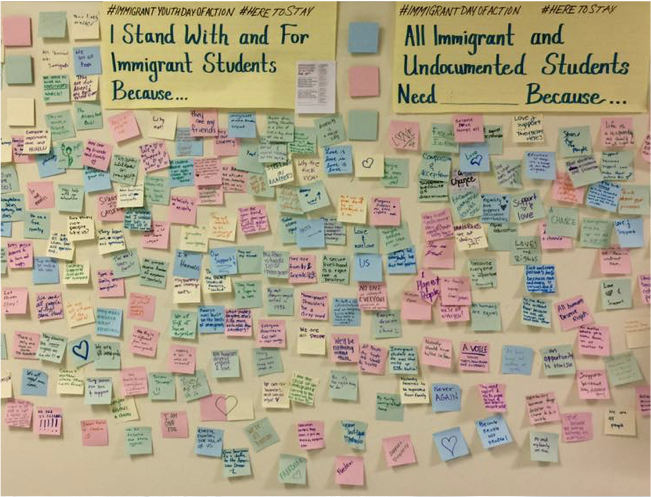 Our Organizations
Two organizations at Bard High School Early College Queens (BHSECQ) support undocumented students during their studies with us and in the college transfer process to complete their Bachelor's degree: Undocufriendly BHSECQ, a group of faculty, staff, and students, and the BHSECQ Dream Team, a student-led organization. The mission of both organizations is
to provide a safe space for our immigrant students both inside and outside of the classroom
to raise awareness about issues that the immigrant community faces
to distribute resources to immigrant students and their families
to provide a way for non-immigrant community members to show solidarity
Undocufriendly BHSECQ and the BHSECQ Dream Team publish Immigrant Voices, a print magazine and blog featuring writing, art, and music about immigration contributed by students, staff, and faculty.
The HOPE Scholarship
When our undocumented students transfer to their next college to complete their Bachelor's degree, they are ineligible for federal financial aid, including loans. For undocumented students from low-income families, it is impossible to pay full tuition at their transfer college.
The HOPE (Helping Our People with Education) Scholarship provides financial assistance towards the cost of tuition and books at the transfer school of the BHSEC student's choice. In keeping with Bard College's history as a refuge for vulnerable populations, the HOPE Scholarship supports BHSEC graduates in their pursuit of continued education.
The HOPE Scholarship was founded by a BHSECQ alumna who saw a need in our community and wanted to support some of our most vulnerable students in achieving their educational goals.