Academic Programs
As accredited campuses of Bard College, Bard Early College sites model their academic programs on Bard College's academic program for freshmen and sophomores. The BEC program of study is overseen by the Dean of the Early Colleges and a committee of Academic Program Chairs who ensure consistent academic rigor and integrity across the network.
Our students gain:
An understanding of the scientific method – its approaches to inquiry, its strengths and limitations as a mode of analysis, and a basic comprehension of the fundamental laws governing both physical phenomena and human behavior;
An appreciation of several forms of artistic and literary expression, the creative process, and the disciplined use of imagination, formal structure, and aesthetic values;
A flexibility of thought that allows for creative problem solving through an integration of quantitative and qualitative techniques;
Knowledge of some of the most influential works of Western culture and critical understanding of the values, assumptions, ideologies that they express;
Knowledge and appreciation of modes of thought of other cultures – including non-Western cultures, and groups or societies that exist as distinct subcultures within Western culture;
A sense of history – ideas, movements, peoples, and events of the past – and an understanding of how our view of the past is shaped, and shapes our understanding of the present and future; and
Sensitivity to the moral and ethical dimensions of thought and action, and developing the ability to make informed moral and ethical decisions.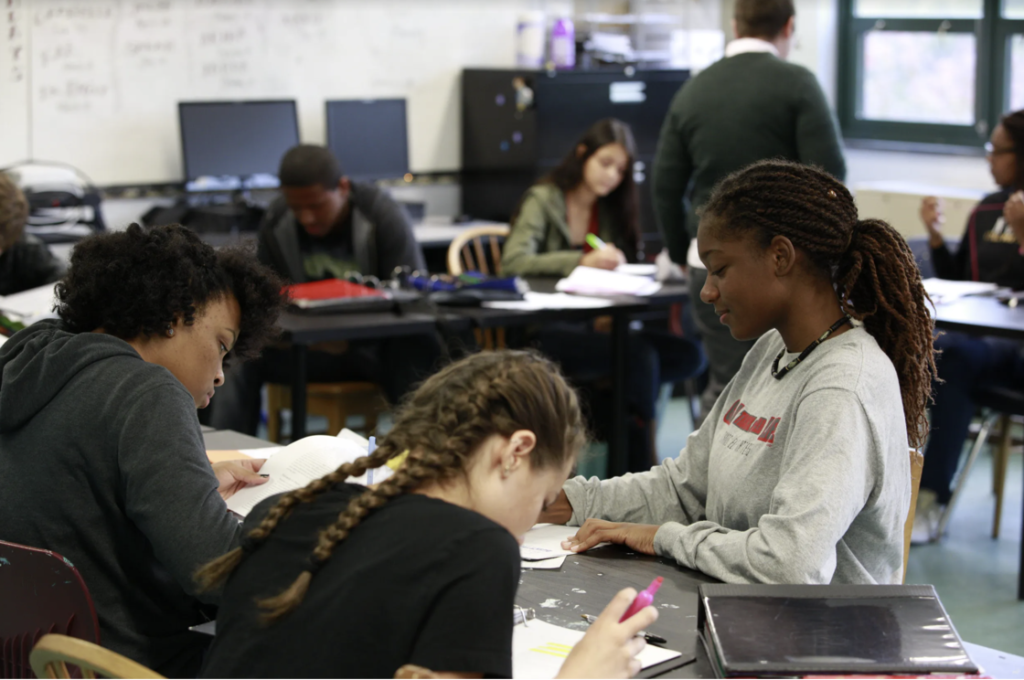 In the college program – in "Year One and Year Two," in place of the 11th and 12th grades – students take a college course of study in the liberal arts and sciences. All classes are taught by college faculty who are active and accomplished in their fields. Classes are inquiry- and discussion-based, encouraging active engagement with professors and peers. All students in the college program take a two-year interdisciplinary seminar sequence, one class a semester. Through critical reading and interpretation, students engage with seminal texts from antiquity to modernity across the humanities.
In the high school program (9th and 10th grades) in our four-year early college campuses, a more structured, high school curriculum helps students ease into college coursework. All high school classes are taught by the same college faculty that teach in the college program, and classwork incorporates similar critical reading, writing, and thinking techniques. Alongside a robust network of academic support resources, the high school classes help students more adequately prepare for the demands of their rigorous college classes in the last two years.