Early College Program Chairs & Fellowship
The Early College Fellowship awards institutional support to faculty from the Bard Early Colleges to engage in the development of new lessons/curriculum and/or design and implement new academic initiatives.The Fellowship includes a series of workshops, opportunities to collaborate with partner institutions and support for the publication/presentation of fellowship projects. Fellowships are awarded for each academic year and fellows receive a stipend.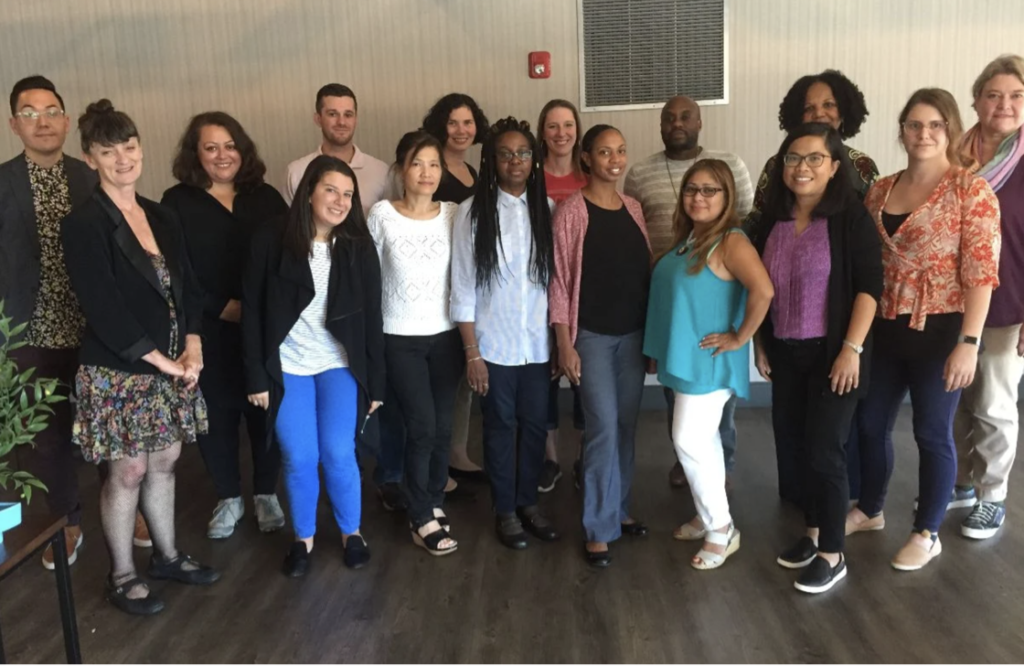 Academic Program Chairs
The following faculty have been elected as the chair of their respective academic programs across the Bard Early College Network. Their approaches to teaching and/or their teaching philosophy are included below.
Dr. Maria Agapito (Program Chair, Biology) considers herself to be both an educator and a scientist at heart. She has published in various peer-reviewed journals, presented at national conferences, and obtained prestigious fellowships. Recently, She was one of 35 science teachers selected in the country by the society of science & the public to be awarded a total of $1,000 to pursue research at BHSEC-Newark, NJ.
Dr. K. "Yawa" Agbemabiese (Program Chair, Global Social Sciences) teaches History and Social Science courses such as History of Africa, Global History, Global Feminisms, Introduction to Women and Gender Studies, and Diversity and Social Justice. She is the Intervention Specialist at BHSEC Cleveland East Campus and a Teach for America 2015 Alumni.
Adrian Agredo (Program Chair, World Literature) is a member of the English Faculty at Bard High School Early College (BHSEC) Manhattan, and the inaugural Chair of the World Literature program for the Bard Early Colleges. Prior to his full-time appointment to the English Department at BHSEC, Adrian coordinated the Bard Early College Academy, an extracurricular enrichment and outreach program for local middle school students in District 1.
Jenna Feltey Alden (Program Chair, American Social Sciences) earned her BA in American Studies at Wesleyan University (2000) and her PhD in US History at Columbia University (2012). Her dissertation examined the role of humanistic psychology in postwar corporate management (asking, "Why were businessmen encouraged to talk about their feelings in mid-century corporations?").
Julia Carey Arendell (Program Chair, American Literature), Assistant Professor of English Literature at Bard Early College New Orleans, also serves as the Director of the Writing Studio. Following a Visiting Undergraduate Fellowship at Harvard University, she graduated with a BA Summa Cum Laude with Honors in English Literature from Loyola University New Orleans and a minor in Gender Studies. Her MFA in fiction is from Louisiana State University, where she minored in American Literature, concentrating on the South.
Ronnie Brown (Program Chair, Mathematics and Computer Sciences) is a native of Baltimore. He attended public schools within Baltimore City and attended high school at Baltimore Polytechnic Institute. He later attended Morgan State University and The Johns Hopkins University for the bachelor's and master's degrees, respectively. Currently, Ronnie is back at Morgan State fulfilling requirements for his doctorate in Civil Engineering.
Anna Dolan (Program Chair, Performing Arts) has taught Theater and Seminar II at BHSEC Manhattan for 5 years. She was born in Ireland, grew up in Jamaica and attended university in Kenya at the University of Nairobi. Her MFA in Directing is from U. Mass/Amherst and MFA in Playwriting is from Yale University. A former classical dancer and singer, she has taught performing arts in the USA and Micronesia, and has trained faculty in creative pedagogy in Ethiopia, the USA, and India.
Elisabeth Gambino (Program Chair, Visual Arts) has been teaching art in Baltimore City Public Schools for 14 years. She currently teaches Drawing and Painting, Issues in Contemporary Art, and Art and Anatomy at BHSEC Baltimore. Ms. Gambino earned an MFA from SCAD in 2005, and studied education at Johns Hopkins after earning an interdisciplinary BA in writing, international studies, and studio art from Hampshire College.
Kara Goldstein (Program Chair, Special Education) currently holds a B.A. from Tufts University and a MSED from Hunter College. Undergraduate research includes international relations and political science with a focus in comparative European politics as well as Italian language and culture. Graduate focus in adolescent special education, literacy intervention, and behavior modification.
Julia Guerra (Program Chair, Spanish) earned a B.A. from American University in Psychology and Cultural Anthropology and an M.A. from University of Maryland, College Park in Art History and Archaeology. Guerra has taught at University of Maryland, College Park; University of Phoenix, Columbia, Maryland; Maryland College of Art and Design. Teaching and research interests include Pre-Columbian culture-history, spirituality and religion among immigrant populations, and ethnicity and gender in colonial Latin America.
Maria Felisa Lerum (Program Chair, Chemistry) completed her Bachelor in Chemistry degree from the University of the Philippines. After four years of working as a laboratory instructor at the same university, she decided to pursue graduate school at Syracuse University. For her Ph.D. thesis, she investigated the synthesis and chemical structures of bimetallic complexes of alkali and alkaline earth metals.
Dr. Tiffany Morris (Program Chair, Physics) is a Clinical Research Scientist with a passion for statistics and is part of the Bard High School Early College Newark Faculty. She has taught courses in physics, mathematics, and engineering. She earned a Ph.D. in Biomedical Engineering from the Rutgers University and UMDNJ, her Masters in Biomedical Engineering from NJIT, and her Bachelors in Electrical Engineering from NJIT.
June Morrison Jones (Program Chair, Physical Health and Education), is a nationally certified health scientist. She holds a doctorate degree in Health Education and Public Health Promotion from Columbia University, and Master in Organization and Educational leadership (Columbia University), Master in Public Health (University of North Texas Health Science Center School of Public Health). She has over twenty years experience as an educator, and eleven years accumulated leadership.
Dr. Patrick Oray (Program Chair, First Year Seminar) holds a B.A. with Honors from the University of Illinois Urbana-Champaign and earned his M.A. and Ph.D. degrees in American Studies from the University of Iowa. His research interests are in critical race studies and mass communication.
Matthew Park (Program Chair, Second Year Seminar) received his PhD in African History from Michigan State University and his bachelors in History and Secondary Education from The College of New Jersey. His dissertation is on this history of Banjul, the capital city of The Gambia from it's founding until independence. Matthew currently teachers tenth grade Africa in World History, Year II Seminar, and college electives in African history including surveys on Urban and Environmental History of Africa, The Atlantic Slave Trade and the African Diaspora, Modernity and African Fiction, and Postcolonial African Fiction and Film at BHSEC Newark.
Sweer Shah (Program Chair, Mathematics and Coomputer Science) teaches in the math department at BHSEC Cleveland (West) at both the high school and college levels. A native of Kashmir, in northern India, Sweer completed a B.E (Bachelor of Engineering) in Electronics from University of Pune, India, and then went on to earn both a Masters in Mathematics and a Masters in Education (Curriculum & Instruction)from Cleveland State University.
Dr. Ling-Ling Shih (Program Chair, Chinese) joined Bard High School Early College faculty, Cleveland, West Campus in 2014 where she teaches courses in Chinese language, history, culture, translation studies, Chinese film and literature. In addition to Chinese language, she also taught East Asian studies, sociology, anthropology at Hope College, Grand Valley State University, Nanyang Technological University. She is the creator of a well-developed Chinese learning website: Ling-LingChinese.com.